Sports Bed for Kids
A sports bed can set it's theme around a particular sport or around a specific athletic team.  Some are themed around football or basketball, while others might have the logo of a favorite baseball team.
Reguardless of what type of bed you are looking for they are all extremely fun and will set the decor nicely for a super cool sports decor bedroom.
For some kids, sports are as important as eating and breathing, therefore an athletic bed is the perfect choice for their room.   Many times kids will have posters of their favorite football or baseball stars hanging on their walls and will have a Nerf basketball goal on their closet door. Soccer balls, basketballs, and baseball gloves will be thrown into one corner while the latest sports video games are scattered on top of there dresser.  Why not complete the room decor with a cool athletic bed for kids and turn their bedroom into a cool locker room.
---
Check out the slide and the basketball goal on the side. This bed will provide hours of enjoyment for young boys.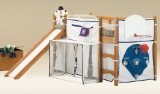 View More Kids Theme Beds
---
Return From Sports Bed to Theme Beds for Kids